Survey pipelines safely and at a fraction the cost & time. 75% of underground lines need no cleaning or CCTV inspection. Identify them instantly with the patented new QuickView® manhole and pipeline survey camera. iPEK is the sole distributor of the system in europe.
With the QuickView® manhole and pipeline survey camera, a single operator surveys lines safely from street level, saving the expense of a CCTV van and crew. A powerful zoom camera and lamps pinpoint hidden flaws and obstructions, then document them with color video and digital images.

Join hundreds of professionals who depend on the QuickView® manhole and pipeline survey camera for rapid, thorough inspection of underground infrastructure.
Applications
Survey/assess manhole and mainline condition
Inspect tanks and vessels
Survey easements
Plan cleaning and inspection vehicles operation
View treatment plant gauges and equipment
Easements, remote areas
Ideal for
Municipalities
DOT Workers
Engineering Technicians
Contractors
QuickView
LARGE RANGE WITH HIGH-PRECISION FOCUS FOR LOW BUDGETS
The Quickview zoom inspection camera system enables a quick look into pipelines, manholes or tanks. A zoom camera mounted to a carbon fiber telescope provides shadow-free illumination and sharp pictures with its revolutionary Haloptic technology.
A vest-mounted control box including rechargeable battery suitable for single-user operation leaves one hand free to position the telescope. The inspection process is displayed on the viewer/recorder which is attached to the telescope.
QuickView airHD
SEWER ASSESSMENT THAT UNLEASHES YOUR INSIGHT
A complete sewer assessment is essential to prioritizing CCTV and maintenance activities, planning cleaning and rehab work, and meeting regulatory obligations. The Quickview airHD makes it easier, faster and more affordable to assess sewer condition with the help of features like a wireless operation, touchscreen controls, a HD video, a motorized tilt, hands-free stability and remote centering.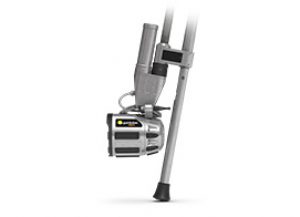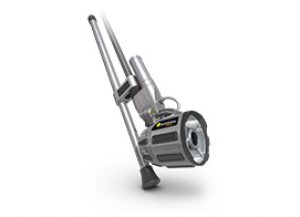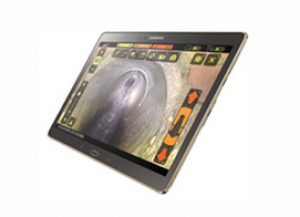 Features
Powerful 216:1 zoom* captures detailed views from pipes and large or confined areas
EXview HAD CCD imager with 0.7 lux sensitivity ensures bright, evenly lit view of objects as far away as 250′
HID (High-Intensity Discharge) lamps deliver bright, narrow-beam illumination
18′ telescoping pole probes hazardous, hard-to-reach places
Armored cable with quick disconnect carries lifetime warranty against failure
Robustly engineered head pans and tilts with ease; can be pressurized or purged; and requires no tools to maintain or repair
Belt-mounted joystick control allows operation and transport by a single technician
Rechargeable battery powers system for 8 hours on a single charge, or up to 2 hours with lights shining continuously
Camera, pole and quick-disconnect cable submerge 38′
One-touch image freeze enables detailed scene evaluation
Camera, pole and quick-disconnect cable extend 38′, or 50′ optionally
Centered view in All Lines